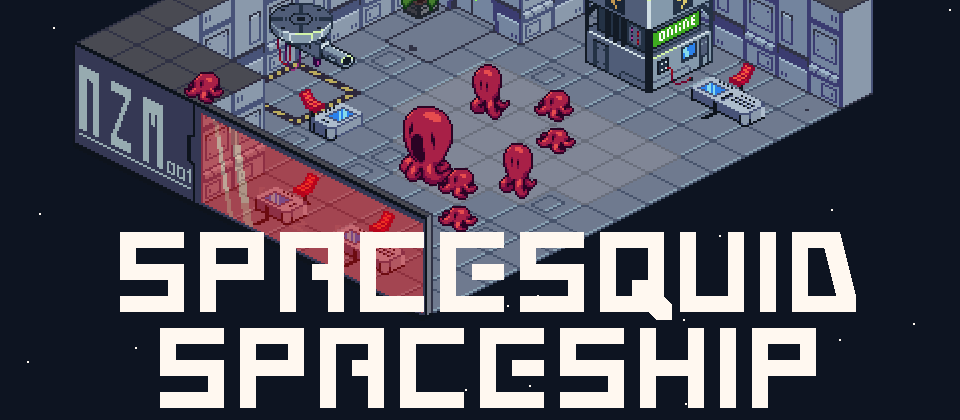 Spacesquid Spaceship
A downloadable game for Windows, macOS, and Linux
Squash any aliens you spot.

Don't let them take over your ship.
And don't run out of power.
As the last surviving member on your spaceship, you are stranded without power. You must generate enough power to restore power to your ship and get home. Use the dynamo interface to keep your ship powered and charge the ship's power grid system. Kill the aliens that invade your ship.
Controls
Mouse 1: Kill enemies OR charge turret/power grid

Space: Open dynamo interface
1, 2, 3 / Mouse 1: Activate dynamo buttons
WASD/Arrow keys / Mouse 1: Interact with dynamo "flick"
Mouse 1/Mouse Wheel: Interact with dynamo wheel
F11: fullscreen
Credits
This game was made in 72 hours for Ludum Dare 39 (July 2017).
Nezumi Games (@NezumiGames)
Programmers:
Art:
Changelog
Update v1.01 - "Post Jam"
To reduce clicking required, the power grids and turrets are now charged by clicking and holding instead of clicking many times.
More power is drained while charging power grids and turrets.
Added a new spawn behavior to enemies so they will gather in rooms more often.
Tutorial can now be skipped by pressing 'F2'.
Power meter will flash red as a warning when power is getting low.
Rooms on the minimap shown as a different color when their power grid is fully charged.
Enemy gibs now render behind the dynamo interface.
Fixed display bugs with the splashscreen and textbox.
Balance tweaks to turret fire rate and enemy spawn rate to improve the difficulty.
Download
Click download now to get access to the following files:
Spacesquid Spaceship (Linux/Debian 64 bit)
8 MB
Spacesquid Spaceship (Windows 64 bit)
11 MB
Spacesquid Spaceship (Windows 32 bit)
10 MB
Spacesquid Spaceship (macOS 64 bit)
12 MB
Spacesquid Spaceship.love (REQUIRES LÖVE 0.10)
8 MB
Spacesquid Spaceship (Post Jam) (Windows 64 bit)
11 MB
Spacesquid Spaceship (Post Jam) (Linux/Debian 64 bit)
8 MB
Spacesquid Spaceship-win64 (Post-Jam).zip
11 MB
Spacesquid Spaceship (Post Jam) (Windows 32 bit)
10 MB
Spacesquid Spaceship (Post Jam) (macOS 64 bit)
12 MB
Spacesquid Spaceship (Post Jam) (REQUIRES LÖVE 0.10)
8 MB